On the 28th of every month, we hand rice cake.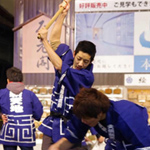 On the 28th of every month, there are many people in Osu, because of the temple festival.
We pound streamed rice into cake-like dough in the evening.
A lot of people are line for the rice cake.
Annual event

January

Hatsumoude Daihannya-kai

In front of Migawari-Fudo・Hakusetsu-Inari, we say a prayer for your safety, health, better luck and so on.
February

Setsubun-e

We scatter parched beans to drive out bad luck.
August

Tanabata

On the star festival in the lunar calendar, we say a prayer for your wish which is written on the paper hanged from bamboo.
December

Sujata-Festival

At the beginning of December, we hold Sujata-Festival for the celebration of Buddha's achievement enlightenment.

We hand milk and parade.
December

Jyoya-Houe

We serve Toshikoshisoba. After eating Toshikoshisoba, you can strike the bell of a Buddhist temple.