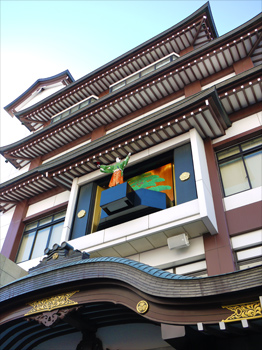 The mechanical doll "Nobunaga" performs five times in a day.
1. 10:00~
2. 12:00~
3. 14:00~
4. 16:00~
5. 18:00~
It performs on the wall of third floor.
※  On the 28th of each month, it performs from 19:00.
※  Please be aware that it can't perform by the bad weather.
Program

《First Stage》
When Nobunaga attended his father's funeral,
he wore informal kimono,
and he threw incense his father's Buddhist memorial tablet.
You can watch this scene in the first stage.
《Second Stage》
Nobunaga defeated Yoshimoto Imagawa in 1560.
― Okehazamanotatakai
Before departure to Okehazama, he danced and sang.
「Life is fifty year.
Life will finish immediately as if it is dream or vision.
No one can live forever.
You do not have to worry your life.
You have to follow your heart.」
You can watch his dance in the second stage.
About the mechanical doll "Nobunaga"
The mechanical doll "Nobunaga" was made by Tamaya Shobei the 8th.
It was released in 1994.
Because of breakdown, we could not watch it temporary.
However, Tamaya Shobei the 9th repaired it, so it has been released now.
The mechanical doll resembles a robot.
In Edo era, the mechanical doll was very popular.