①Hondo(Main hall)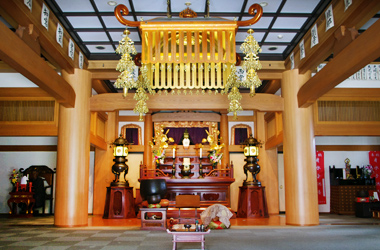 Hondo is the functional and modern building. It has five floors and basement first floor.It is made of iron and reinforced concrete.
On the first floor, there are Jyuichimen-kannon(the principals), Dainichi-nyorai, Mizuko-jizo.
There are cineraria on the third floor, the fourth floor and basement first floor.
On the wall of the third floor, the mechanical doll "Nobunaga" performs five times in a day.
Everyone can watch his performance from the precincts of a temple.
→The mechanical doll "Nobunaga"
②Oku no in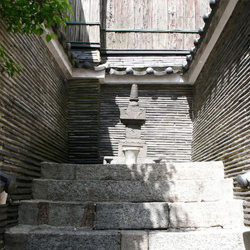 "Oku no in" is next to Inari temple. You can go to "Okunoin" through underpass which Oda family's Japanese lanterns are in.
The front of "Oku no in", there is gravestone of Nobuhide Oda who built Banshoji.
There are not only gravestone of Nobuhide Oda but also Akibayama and Omokarujizo.
③Fudo-do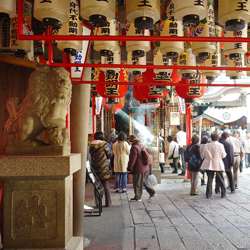 On 1570, Nobunaga Oda was shot by enemy, but he survived because bullet hit dried rice cake which was in his inside pocket.
The people said that "Fudomyo-o" saved him. Kiyomasa Kato heard this story and named "Migawari-fudo".
To tell this story, on the 28th of every month, we hand rice cake.
The Migawari protection provided by Fudomyo-o has attracted the attention of many people who pray that the deity will be their substitute when danger threatens
④Inari-do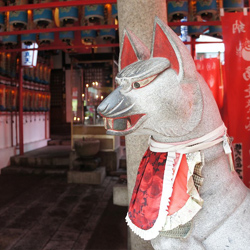 According to the legend,the white fox which lived in land of Banshoji 1000 years ago is the origin of Hakusetsu Inari.
When Banshoji declined, this Oinari-sama transformed "Okojyoro" and managed to get money. Then Banshoji was saved.
Because of this story, many people who carry on business come to Inari-do.
⑤Ofuke kannon
Ofuke kannon was worshiped as a guardian Buddha in Ofukenosato which is in Nagoya castle for Tokugawa Haruhime. That is why it was named " Ofuke kannon ".
After years ago, it transferred from Ofukenosato to Banshoji whish is Family temple of Haruhime.
Original Ofuke kannon that was made of wood burned down.
In the Taisho era, new Ofuke kannon was made by Sagichi Kuwazaburo. It is made of stone.
+++ How to Pray (Omairi) +++

There are a lot of sects, so there are also a lot of ways to pray.

It is difficult for ordinary people to pray perfectly.

Feelings are the most important.

At first, you purify your hands by using Chozu(place for ritual cleansing of hands and mouth with water).

Originally, you rinse your month, but you do not have to do that. Because the well water of Banshoji is not drinking water, you only have to imitate.

In front of the temple that you want to pray, you throw in a coin, straightening yourself and ring a bell.

Finally, put your hands together and think about your wish.
⑥Ukesyo(Information)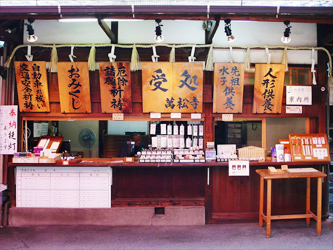 We sell talismans and fortune slip in Ukesyo. You can get some information and make a reservation of pray and memorial service.
+++ Talisman +++

There are many kinds of talismans. For example, talisman for the health, for the traffic safety, for the fulfillment in love, etc.You can buy those talismans.

You have to put it in a bag or wallet to get answer to a prayer.

There are also talismans that use Swarovski.
Fortune slip

You can buy fortune slip in Ukesyo (100yen).

Thinking about your wish and worry, shake a box that has fortune slips.

Turn a box upside down and take one fortune slip out.

Then you can see the number. We hand a piece of paper that is written your fortune.

We have paper that is written in English. Please ask if you want paper written in English.
⑦CANDI(souvenir)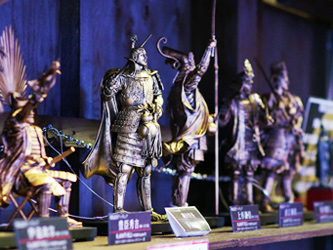 CANDI means temple in Indonesian.
We sell samurai goods and Asian novelties.
・・・・・・・・・・・・・・・・・・・・・・・・・・・・・・・・